Your OOC name (byond username): Krautsalat
Your in-game name (Used most or at the time): Unit #13
Approximate Time of Ban (Give your best estimate. Used for investigation): See below

Ban Reason/Message (Copy paste or screenshot of the ban screen with round ID, banning admin visible):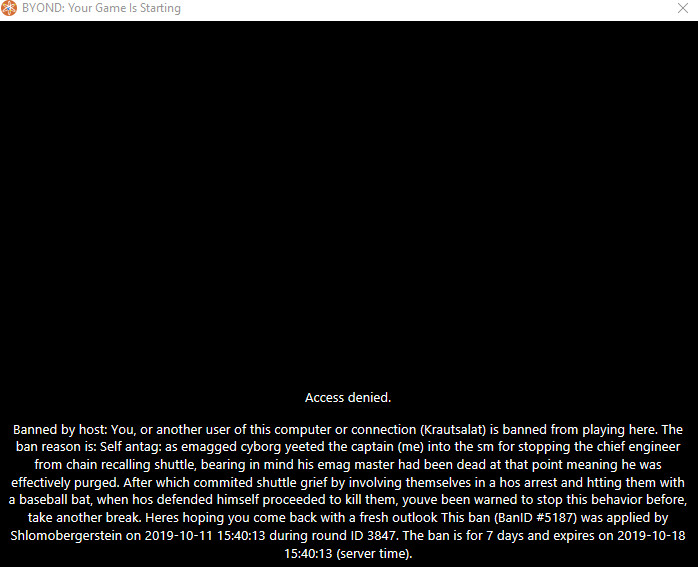 State your appeal (Please limit to 500 words or less):
I think I did nothing wrong as a cyborg. As he stated, I was emagged and my syndie was dead. So I was basically free to do whatever. I acted like I would with asimov laws for most of the round, but when the cap tried to kill the CE I decided to intervene. I can't find any server rule that would prevent me from doing so. I guess he is assuming that silicons without laws have to behave like humans, but as far as I can tell, that is not the case. I've seen AIs flooding the station with plasma after a law purge and that never seemed to be a problem. So killing one guy to save another doesn't seem like a big deal to me. I believe the real issue here is that the guy I killed happened to be this admin. 
The thing with the hos on the other hand was kinda my fault, not gonna lie. I was a golem at that point and tried to help another golem. Things went south pretty quickly. But I doubt that alone would be worth a 7 day ban.
The warnings he mentions are pretty old btw. I played hundreds of hours on this server without any incidents.